Guide to YouTube Premieres
Views: 30087
Read Time:
7 Minute, 48 Second

When it comes to search engines, YouTube is the second largest after Google, and it has grown over the years to be a hot favorite of businesses looking to market their products/services. Business growth can be boosted through YouTube marketing by gaining more YouTube subscribers and therefore getting more YouTube views on your videos. Real YouTube subscribers help to generate higher engagement rates, which allows for videos to show up in searches more easily. New features are constantly being added to the platform for businesses to take advantage of, and one such addition is YouTube Premieres – for sharing and watching videos on YouTube.
What is YouTube Premiere?
YouTube Premieres offers a combination of a live stream and conventional videos where you can pre-record the video and play it live, with your YouTube subscribers having the opportunity to live chat with you.
Typically, YouTube Premieres will keep your YouTube subscribers informed of when a video is premiering on your channel, showing up before it's streamed live so that your YouTube subscribers get a reminder before.
There's a set air time for it, and nobody gets spoilers as viewers don't get to skip ahead. The videos get saved to your channel after they premiere just like a normal video. With YouTube Premieres, you can offer your YouTube subscribers a community experience and set your brand apart from others.
How to make use of it
As a business, you're going to have to add titles, descriptions, and tags on the videos you'd like to premiere. Sticking to regular formatting is the best option for YouTube Premiere videos. You don't want to use the same format as the one you use for your live videos or add the videos to a live replay playlist when it comes to YouTube Premiere videos.
As the video premieres and you start getting more YouTube views, you will be able to live chat with viewers, and they can even send Super Chat donations. In this way, you get more engagement from your videos, and viewers are kept interested.
All viewers are required to do is tune in once the video starts, and they'll even be notified with a reminder just before so that they don't miss out. A 2-minute countdown takes place before the beginning of the video so that viewers get a chance to get comfortable.
A step by step guide on using YouTube Premiere
The first thing to understand with YouTube Premiere is that it can be done only from your Desktop, but viewers can watch it and interact with it on any platform: iOS, mWeb, Desktop, or Android. Here's what you need to do to get started:
Choose to upload a YouTube video
Go to the Scheduled section from the dropdown
Upload the video of your choice
While uploading, choose the Premiere option and decide between whether you want to premiere the video immediately or you want to schedule it for premiere later. If you plan to schedule it for later, enter the date and time that you'd like to premiere it.
Write a title, make a custom thumbnail, and write a description for your video.
Once you've done all of that, choose to premiere it, and you're ready to go.
It must be noted that YouTube Premieres are not supported for 360/vr180 videos or any output that's more than 1080p.
A shareable watch page will be created for your YouTube Premiere video that will allow for later viewing of the video as well. It's a public page that you can share and start a conversation around your business and your upcoming content.
Before the start of the video premiere
A public watch page will be launched, which has the metadata for the video to be premiered.
Your YouTube subscribers opting to be notified will get a reminder 30 minutes before the video starts and then again just before the video is about to start.
Your YouTube subscribers can set reminders using pinned comments or in the description, and you can even remind them via chat option.
At the start of the video premiere
The video premiere begins with a 2-minute countdown and as soon as it's over, your YouTube subscribers will be able to watch the video in real-time.

While viewers don't get to fast forward, they can rewind to earlier bits of the video while streaming.
You get to keep track of how many YouTube views you're getting during the premiere through the count for concurrent viewers.

Live chat and comments will allow you to engage with your YouTube subscribers, and you can also interact with them via Super Chat.
At the end of the video premiere
Once the premiere is over, the video will appear as a normal upload on your channel for your YouTube subscribers. The countdown, however, will not be included after the premiere.
Your YouTube subscribers will get to view the chat replay even after the premiere has ended, but you will be able to turn off chat whenever you want.
How you can promote your YouTube video premiere
Keep engagement rates up with your viewers on your watch page both before as well as during the video premiere through the use of tools such as Super Chat and respond to comments made or questions asked.
Cross-promote the video premiere with the watch page URL shared on various social media platforms, via email, or even use it as your channel trailer.
Get your viewers to opt for a reminder, so they don't miss out when you're about to premiere and instruct your YouTube subscribers to choose the "bell" icon to get notified of your content.
Make sure there's clarity in your video's metadata. You don't want it to be confusing for your viewers when they're trying to watch your premiered video.
Choose a custom thumbnail that will attract viewers. It's the first thing that your viewers will notice, and it can make or break their decision to click on your video from among a pool of other video content that's constantly being uploaded to YouTube.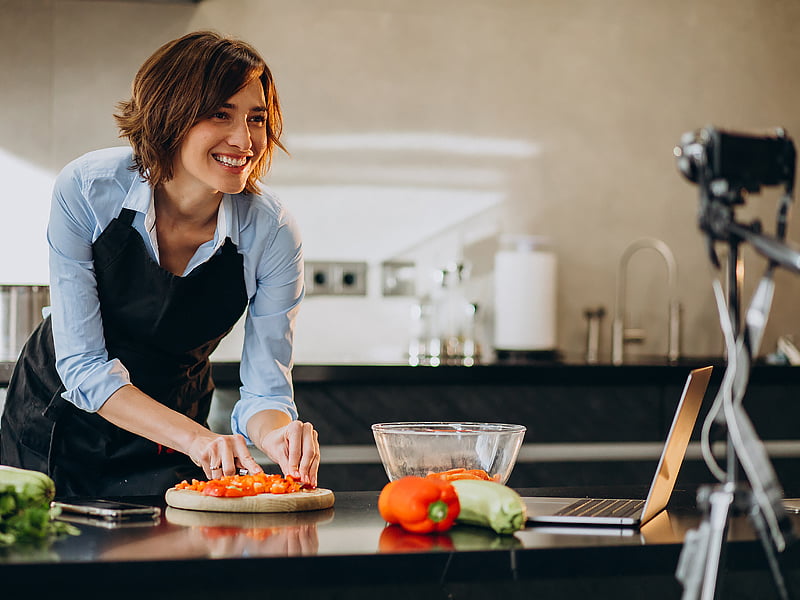 Why use YouTube Premiere?
You can create anticipation for your videos
A dedicated landing page for your videos makes it possible to generate hype around your videos before they're uploaded and see a growth in engagement rates on your YouTube channel.
You can direct viewers to a specific page
While cross-promoting on other social media platforms of your business works well, YouTube Premiere makes it possible for you to direct people to a specific public page for your videos on which they can join in on the video viewing.
You can benefit from greater engagement
You can make use of Super Chat and live chat features to engage with your audience in real-time. Questions asked by viewers can be answered easily and better engagement with your audience will mean more YouTube views and real YouTube subscribers in the long run.
You can make money
YouTube Premiere isn't just a fancy way for you to stream pre-recorded videos – it's also a great tool that you can use to make money on the platform if you've got at least 100,000 YouTube subscribers that is and are part of the YouTube Partner Program. Here's how you can make money using YouTube Premieres:
If your channel is set up for monetization, you can serve automatic pre-roll ads during the video premiere, but not mid-roll ads. After the premiere, however, both ad formats will function just as they do with regard to normal video uploads.
Super Chat and Super Stickers
With Super Chat and Super Stickers, your real YouTube subscribers get an opportunity to connect with you. By this method, they can pay to have their messages highlighted or even pinned to the top in the live chat. These can be used before beginning the premiere and even while the premiere is going on, making it possible for you to make money.
If your channel is eligible, you can make money from channel membership where viewers get perks and even custom emojis/loyalty badges. Earlier, this benefit was only extended through live streaming, but now premieres make it possible to make money in this manner.
You can even obtain analytics for your YouTube video premieres using the YTA tool. Comments, as well as a number of YouTube views from premiered videos, remain even after the premiere is over, adding to your view count. In this way, the increased engagement on your videos can translate into a greater number of YouTube subscribers for your channel and boost your business growth.
Various discovery surfaces on YouTube show premieres, including YouTube's search, Watch Next, homepage, and even recommended videos section. A unique badging appears on all premiered videos so that your YouTube subscribers can differentiate between live streams and premiered videos. Besides that, the reminder that they're given is also a signal that the upcoming video is a pre-recorded one that's being premiered.
With the higher engagement made possible through YouTube Premiere and the opportunity to make money through it, it's definitely something you want to take advantage of to boost your business.