Using YouTube Cards Effectively for Your Videos
Views: 11964
Read Time:
8 Minute, 15 Second
Getting more YouTube views for videos and growing the number of YouTube subscribers is important for any business. YouTube marketing is taking over as an extremely important aspect of a firm's marketing strategy. It offers businesses the opportunity to engage with their audience and boost the number of real YouTube subscribers.
Interaction with customers is important for any business. With more people using smartphones today to access YouTube content, annotations became problematic for creators as well as users. This is because they're not mobile-friendly. The interactive YouTube Cards' feature was launched to overcome the drawback of using annotations, as these can be accessed through the desktop as well as mobile phones.
YouTube Cards at a glance
YouTube cards are interactive elements that can be placed in the middle of or during the end of your videos, although it's best to place them towards the end of your video. They can include titles, custom images, as well as call to action text and may be used for live streamed or pre-recorded content. They allow you to place external links to direct your YouTube subscribers to your website, other videos, playlists, and a lot more. There's a maximum limit of 5 cards per video on YouTube and you'll even be able to add cards for your real YouTube subscribers on your TrueView Ad Campaign videos.
Adding YouTube Cards to your videos
There are different types of YouTube cards you can add to your videos, but we'll get to that in a bit. Let's first go over how you can add YouTube cards to your videos easily with the purpose of increasing your YouTube views.
First, access your YouTube Video Manager and look for the video you want to add a card to. Once you choose the right video, select the edit option under the title of the video.
When you click on the Edit option, you'll see the Cards tab in the navigation bar on top. Select the Cards tab.
Once the Cards tab is chosen, you'll have to come up with a new YouTube card that can be added to your video. Select the Add Card option and choose the Create button located at the right-hand corner of the chosen video.
Once you do this, you'll be required to fill out all the relevant details for the card you want to create. There are many different types of cards you can choose from, so select the right links based on what you want to direct your YouTube subscribers to.
Upload a custom image or choose from among the recommendations offered for your video. Make sure you have a custom message to add along with an optimized call to action text and title.
Select create card to add your YouTube card to your video. You'll be able to make adjustments to the timing of appearance of your card once you add it. To do this, you can drag the card along the timer marker for your video until it reaches the point that you want.
A total of 5 cards can be added for each video and you can edit these cards and even cancel them whenever you want.
Ensure that you watch your video before publishing it so that you're certain of the timing of appearance of your card.
Types of YouTube Cards
There are many types of YouTube cards that you can use to boost business growth. The specific card used will depend on what your goal is for the video and which card will help to achieve that goal the best. The different types of YouTube cards you can use for your videos are as follows:
Merchandise card
This card helps you to promote your merchandise on your video. You can direct your YouTube subscribers to your landing page where they can find the products featured in the videos or other related products on platforms like Eventbrite or iTunes store. You can even direct customers to your downloadable podcasts with this card. This will help you see a growth in sales or conversions for your business.
Fundraising card
With the YouTube Fundraising card, you can help raise funds for non-profit organizations and charities you support by directing your YouTube subscribers to projects on whitelist fundraising websites. Through YouTube's partnership with platforms such as Kickstarter and Indiegogo, you can make it easy for your YouTube subscribers to access donation pages directly. Your brand image can be enhanced with the use of such cards.
Fan funding card
This is a great card that can help you see growth in your channel and allow you to keep creating content that gets more YouTube views. Your real YouTube subscribers who enjoy your content will have the opportunity to make monetary contributions to support your work through the fan funding YouTube card. Your YouTube subscribers will be directed to a payment window when they click on this card. This card will enable you to get funded by your real YouTube subscribers.
Channel card
With this card, you can direct your YouTube subscribers to other channels you have on the platform or even channels of business partners. If you've collaborated with another channel on YouTube, this card will help you direct your audience to the collaboration, resulting in more YouTube views.
Video or playlist card
This card will allow you to direct your YouTube subscribers to other related videos on your channel or a video playlist uploaded to your YouTube channel. Cross-promotion of related videos is possible with this card. If you have a series on your channel that the current video is a part of, you can use this card to get more YouTube views on the previous or next video in the series playlist.
Associated website card
You can make use of this card to direct your YouTube subscribers to the website associated with your YouTube channel. This could be the website of your business, a link to your online store, or even a page where your real YouTube subscribers can sign up and remain in touch with your brand. Email marketing will also become easier if you're able to collect contact details of your real YouTube subscribers by directing them to a particular link through your card.
Poll card
A poll card is a great way for you to collect public opinion from your audience on YouTube. It allows you to get feedback on your video content. You can ask your YouTube subscribers if they enjoyed the current video they watched or get them to pick what type of video you should make next. It's a good way to stay connected with your audience while getting an idea of what your YouTube subscribers want so that you can plan future content accordingly.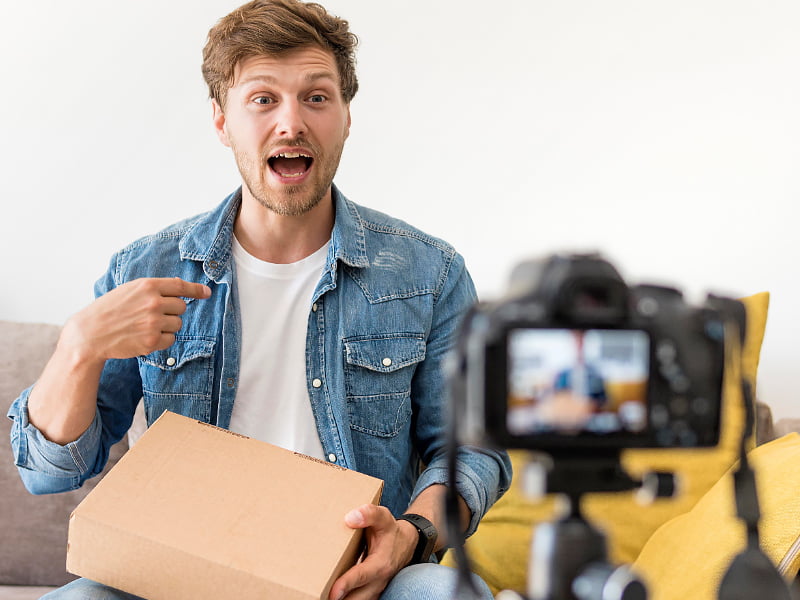 Best Practices
We've already gone through the different types of YouTube cards and what they can be used for. Here are some tips and best practices to keep in mind when you use YouTube cards for your videos.
Promote new videos using cards
When you're about to upload a new video to your YouTube channel, make use of cards on previous related videos so that your audience can be directed to the new content.
Promote videos that have high SEO potential
High SEO potential means that your video is more likely to appear in YouTube's search. A key indicator of this is the audience retention rate, which is the percentage of the video that people actually watch. Include links to videos that have above-average audience retention rates to boost your discoverability on YouTube.
Feature your influencer marketed products
Linking to content of influencers that feature your products is a great way to increase the credibility of your brand and get people interested in buying your product.
Retain your audience on your channel just before they drop off
Check your audience retention rates for videos to identify 'valley', which is when your audience drops off. Insert a card before this point to direct your YouTube subscribers to other videos on your channel. This can increase YouTube views for those videos without losing your audience to another channel.
Make use of verbal cues to highlight your card
Reinforcing your card through verbal cues by asking your YouTube subscribers to click on it will help you get more clicks on your cards, which may have otherwise been missed.
Use the right custom message and teaser text
The teaser text is what appears before someone clicks on your card and the text appearing within the expanded card is the custom message. Include a call to action to grab attention and convey to your YouTube subscribers that the content is related and they can benefit from clicking on it.
Add cards towards the end of your video
Adding cards to the last 20% of your video will enable you to keep your YouTube subscribers on your current video long enough for them to grasp the message while directing them to your other content at the right time.
Keep aesthetics in mind
Space out multiple cards in your video and make sure there's enough blank space left so that the added card doesn't interrupt your video content.
Track the performance of cards
You must track card performance within YouTube Analytics to see if they're working. You can check how many clicks the card got, videos on which cards are performing the best, and a lot more so that you can plan your YouTube marketing better.
Conclusion
YouTube cards can help you interact with your audience in a way that wasn't possible earlier and achieve business goals more easily by directing your YouTube subscribers to relevant content. If you want to boost business growth through YouTube, you'll want to make use of this exciting feature.