29 Best Anime Series of All Time – 2020
Views: 82855
Read Time:
42 Minute, 20 Second
So, you are a die-hard anime fan? You probably have seen most of the anime series and movies out there, but can you name your top favorite ones?
Ever since the 1980's when anime began to gather popularity outside of Japan, we have been watching and enjoying the countless new series, playing the anime-based games and getting to know the genre up close and personal.
So, after decades of exploring and enjoying Japanese animation, and after checking the rankings on some of the leading anime websites, we have come up with our ultimate list of the best original anime TV series which you definitely need to watch ranked from number 25 up to our number one choice.
Death Note is number one on our list based on many reasons. Firstly, it has been voted the number one anime series of all time by Japanese fans. It is also ranked as the number 1 most popular anime series on the MyanimeList website.
Death Note is rather dark, and its protagonist isn't a stereotypical good guy like in many other series.  The film goes to places where other anime series haven't dared, and this is what makes it absolutely enthralling.
The Shinigami is a god of death able to kill any person as long as he is able to see the victim's face and write their name down in the Death Note notebook.
Ryuk, who is bored by living the god of death lifestyle, leaves one of these notebooks in human reals to see how humans use it.
The prodigal high school student Light Yagami finds the Death Note and begins testing it by writing the name of a criminal in it. The criminal dies immediately, and Light realizes how devastating the power of the notebook in his hands really is.
Light decides to clear out the world from criminals with the help of the notebook, and people begin worshiping him. The police, though, realize that there is a serial killer targeting criminals and try to apprehend him with the help of an eccentric detective named L.
The original manga series was published from 2003 to 2006 and includes 12 volumes and 108 chapters.
The anime series developed by Madhouse was composed of 37 episodes directed by Tetsuro Araki. These were broadcasted in Japan from October 2006 to June 2007. In 2006 a light novel based on the series was also released, followed by a series of Nintendo video games and three live-action films, a TV drama, and mini-series in Japan as well as a US film shown on Netflix in August 2017.
The series became so popular that there was even a Broadway musical written and composed based on it.
If you want to see and experience the absolute best in the world of anime, Death Note is definitely a series which you should watch first and foremost. You will be amazed by the experience which awaits you with this very dark and fascinating series.
Voted the Best Action Anime by Ranker, Attack on Titan is definitely a fantastic and revolutionary anime.
The series is about a young man called Eren Jaeger who vows to destroy all the giant humanoid Titans on earth after they destroy his hometown and kill his mother.
The imagery, the incredible storyline, and the atmosphere of this TV series is what makes it so unique and why it is loved by most anime fans.
The captivating storyline and the entire production of the anime series have made it as popular as the longest-running anime series, even though the original Attack on Titans has only 25 episodes.
It is based on an award-winning manga by Hajime Isayama. This series follows the adventures and the fight against the Titans by Eren Shingeki no Kyojin, Mikasa Ackerman, and Armin Arlert, who all do everything possible to keep the three walls surrounding the remaining humans on the planet from the horrible Titan attacks.
There are three different military branches that are also engaged in protecting humans. The soldiers use special grappling systems referred to as Vertical Maneuvering Equipment, which they use to jump on trees, walls, and buildings in order to attack the Titans.
The original series aired in 2013, and a spin-off light novel and manga series have been created as a result of the success of the anime series. The second season aired in 2017, and there is a third one scheduled for July 2018.
In 2018, the Attack on Titan manga had sold 74 million printed copies, which has made it one of the best-selling manga series in history.
So, if you want to see some inspiring, well-paced, beautifully drawn action anime, make sure you get to see the Attack of the Titans series. We are positive that you will be so enthralled by them that you will most likely binge-watch the entire series at once!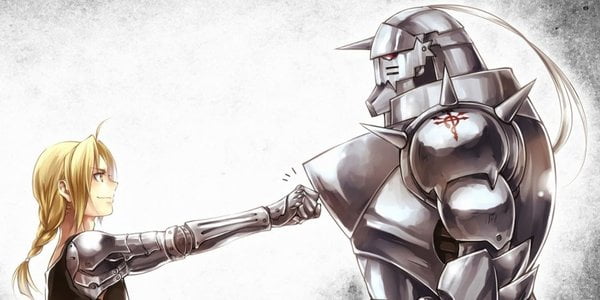 If you think anime is for kids only, you may want to think again. If you are an adult but want to explore the wonderful world of anime, Fullmetal Alchemist: Brotherhood is a great place to start.
Unlike the first Fullmetal Alchemist, which was only partially based on the manga series by Hiromu Arakawa, this series was made after the manga series was completed and followed the original plotline closely.
It includes 65 engaging episodes, which will keep you interested and craving or more.
The series is written by Hiroshi Onogi and directed by Yasuhiro Irie and premiered in 2009 and ran until 2010.
It was subtitled in English almost immediately following its release, which made it very popular among non-Japanese viewers as well.
We already told you the story of the two disfigured brothers Edward and Alphonse who go on a quest for improving their alchemic training to resurrect their dead mother and also to restore their physical bodies to their full and healthy form. Edward loses a leg and sacrifices his arm to preserve the soul of his brother during an alchemic experiment for resurrection goes wrong. Alphonse is turned into body armor, and Edward wears his brothers' soul on him as he travels to the capital along with his other brothers to become a Fullmetal Alchemist at the State Military. She proceeds to search for the Philosopher Stone, which is supposed to give him immense alchemic powers. On the way, he discovers some deep conspiracies of the government along with details about his father's past.
DVD and Blu-ray box sets have been released around the world, and the series aired on various channels in the US, UK, Australia and many other countries and attracted millions of fans worldwide.https://e31a50a394aa1ac2af1f4d4ee11999e0.safeframe.googlesyndication.com/safeframe/1-0-37/html/container.html
With the Fullmetal Alchemist: Brotherhood, you will never be bored and feel the need to fast forward a scene. Every minute of this brilliant anime series is spectacular and is worth your attention and time.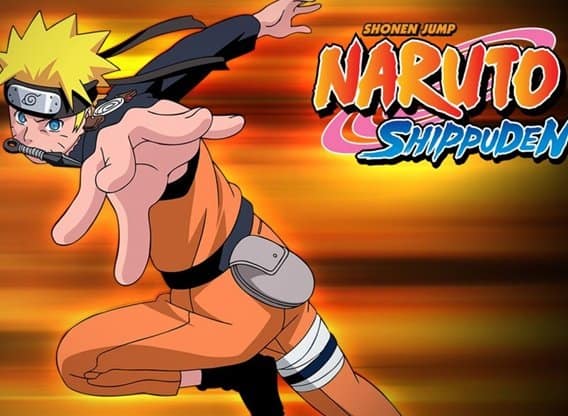 Naruto has become a huge franchise ever since the first Naruto series was released back in the years. Since then, numerous comics, films, games and series and related products have been made and sold to the growing army of Naruto fans.
Naruto Shippuden explores the life and adventures of Naruto Uzumaki, who is a young, hyperactive, and loud ninja looking to become the strongest ninja in the village (Hokage). The series starts more than two years after Naruto left Konohagakure to go through intense training. The Akatsu, which is the organization of the elite ninjas, is planning on overtaking the shinobi world. Even though he is older, Naruto has not changed too much, except that his confidence has grown. He goes through each fight with all his heart and soul still in pursuit of the Hokage
The characters are all superb, including the antagonists, which is why so many people around the world love this series.
The story keeps you interested and excited at all times, which is also why this is one of the most watchable lengthy anime series.
It includes a whopping 500 episodes which were aired from 2007 to 2017, and the Naruto fans have been relentlessly following their favorite series and their favorite anime hero through the years. The Naruto Shippuden, unlike the original Naruto series, is aimed at a more mature audience. The animation and the music are outstanding, and there are some scenes in the series which will make you want to watch them over and over again.
If you are new to manga and anime, Naruto Shippuden is definitely a great place to start!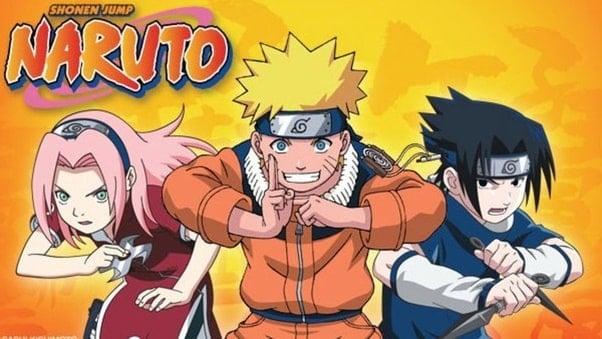 If you have heard of manga and anime, then you have probably heard about Naruto. It holds the third place in the bestsellers manga list in history with over 235 million copies sold in over 35 countries.
Written by Masashi Kishimoto, this is a coming of age story about young Naruto Uzumaki, who is a child ninja looking for recognition and with a dream of becoming the leader (Hokage) of his village. Prior to his birth, Naruto gets a huge demon Kyuubi sealed inside him, which causes problems for the boy when trying to find his place in his village.
The story is divided into two parts – the first during the early adolescent years of the boy and the second when he is a teenager. The famous manga series was adapted into one of the most popular anime TV series of all times, which consists of 220 episodes, which originally aired in Japan from 2002 to 2007, and on Cartoon Network from 2005 to 2009.
The sequel – Naruto: Shippuden aired from 2009 to 2011 and consisted of a whopping 500 episodes. The story doesn't end there as the story continues with Boruto Uzumaki, who is Naruto's son in Boruto: Naruto Next Generations.
Apart from the series, Naruto fans can watch one of the 11 movies and 11 original video animations, as well as video games, light novels, and trading cards based on the characters and storyline from Naruto.
The Naruto series has won numerous awards and is still a captivating anime to watch with its mixture of adventure, action, martial arts, comedy, and Shounen in each 23-minute episode of the original series.
So, make sure that you watch this story about growing up, which is filled with adventure, fun, drama, and everything you would expect from an anime series that has such a strong following.https://e31a50a394aa1ac2af1f4d4ee11999e0.safeframe.googlesyndication.com/safeframe/1-0-37/html/container.html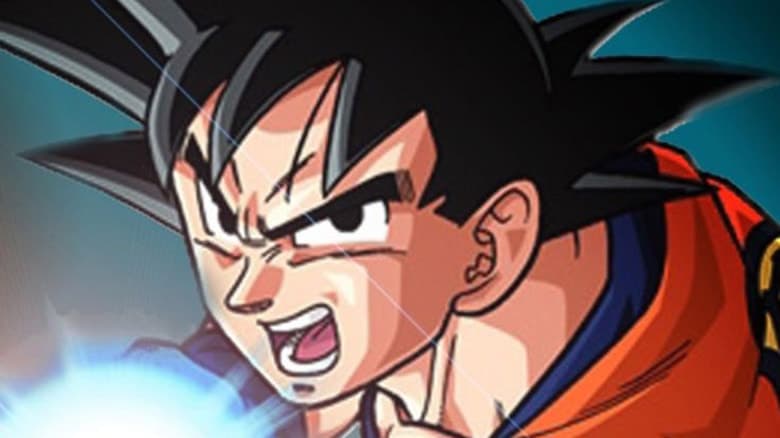 Dragon Ball Z or DBZ is definitely one of the most popular anime series around the world. It is a sequel to the original Dragon Ball series and adapts the following chapters of the manga series written and illustrated by Akira Toriyama.
The story starts with Gokuu, who is living peacefully with his wife and son five years after winning the martial arts tournament. The arrival of Raditz, who claims that he is Gokuu's long-lost brother, changes all of this. He tells Goku that he is a warrior from a now-extinct race from another planet. Gokuu was sent to earth as a baby in order to conquer and destroy our planet, but after suffering from a head injury lost his memory and became a good-natured person fighting to protect the weak.
After this revelation, Gokuu and his friends are faced with numerous attacks from extraterrestrial enemies.
The characters have grown and matured since the prequel Dragon Ball series, which is truly fun to observe if you are a fan of the series.
The Dragon Ball Z series aired from 1989 to 1996 and included 261 episodes. Due to the huge popularity of the series in the US and in Japan, 17 movies and a total of 148 video games based on Dragon Ball have been released.
There are two sequel series, including Dragon Ball GT and Dragon Ball Super.
Watching the Dragon Ball Z series is definitely a must for any anime enthusiast, of course, after you watch the original Dragon Ball series, which you will find ranking even higher on our list.
This beautiful long-running anime series makes it to the top 10 list because it combines great animation, interesting characters, and an arc-like structure of the series.
Some may find that Fairy Tale gets repetitive at some point, but for true fans of shounen anime – this is a heaven-sent series.
Lucy Heartfilia has a dream of becoming a powerful full-fledged wizard, which is why she is searching for celestial keys. During her pursuit, she meets Natsu Dragneel and Happy, who are looking for the dragon Igneel – Natsu's foster father.
Natsu is a wizard and a member of Fairy Tale and saves Lucy during an attempt for abduction. He offers her to join them.
Somewhere along the way, the group meets magic swordsman Erza Scarlet and the ice wizard Gray Fullbuster who join them on their quest.
Together they battle the evil and end up in countless adventures, which makes this series so much fun to watch.
The series aired from 2009 to 2013, and during that period, won a number of anime awards, including the best Japanese Anime Award in the 19th Anime and Manga Grand Prix in 2012. It was based on the popular manga series of the same name written by Hiro Mashima.
A second series premiered in Japan from 2014 to 2016, and a third series is expected to be released in the fall of 2018, so make sure you are ready for the new series and take the time to watch and enjoy these fantastic 175 episodes of the first Fairy Tale series.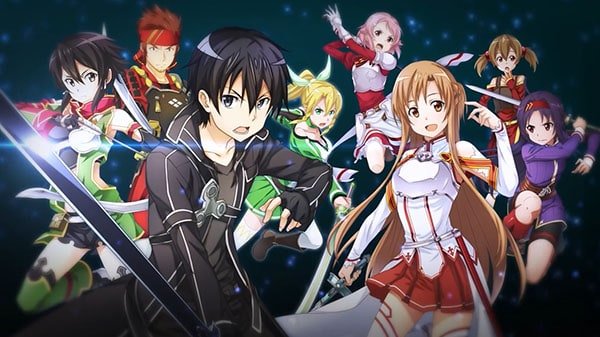 Sword Art Online a.k.a. S.A.O. has a huge fan base. It is a beautifully drawn animation series with incredible music and sound. The fans of massively multiplayer online games (MMO) will love this anime series.
The plot involves several gamers who, in 2022, are part of the worldwide gamers for the launch of Sword Art Online MMORPG game, which connects players into a virtual reality world with the help of special Nerve Gear helmets.
Kirito is one of these eager gamers who is one of the first to log into the game and quickly becomes close friends with Klein, who is a newbie warrior.
The gamers use their thought s to control their avatars in the virtual world of Ainca, where they get access to various medieval weapons and meet gruesome monsters and fight bosses.
The gamers though pretty soon realize that they are unable to log out of the game and that they are being held by the creator of the game until they are able to complete all levels of the game. The worse part of this situation is that if you die in the game, you actually die in real life too.
So, you can imagine the excitement and adventure which this anime series provides. Its 25 episodes aired in 2012, and are based on the light novels by Reki Kawahara. The books have also become very popular around the world, and some anime fans even prefer them because of the proper pacing and writing, which is lacking in certain parts of the series.
People who love MMO games and anime will definitely have a treat with the Sword Art Online series!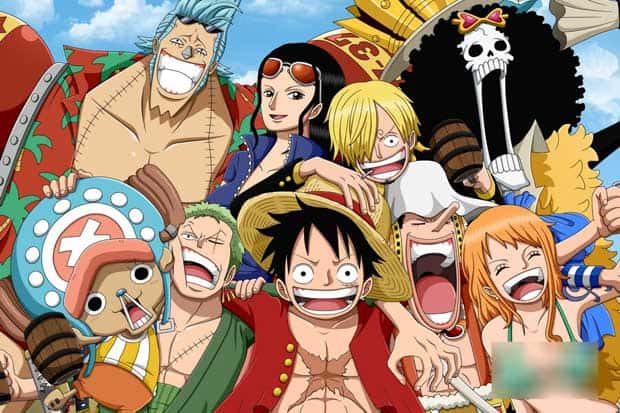 Our favorite hero Luffy has taught us that if you really want to accomplish something, you need to put your entire heart and soul into it even if it costs your life. This is what makes One Piece such an inspirational and loved anime series.
Luffy is a good-natured and adventurous pirate in search of the great mystical treasure called "One Piece." He is part of the Grand Age of Pirates, who are all pursuing the dream of becoming the first to find the treasure and be proclaimed the title of "Pirate King."
The series follows the adventures of Monkey D.Luffy, who is just 17 years old but overcomes numerous amazing adventures, unveils dark mysteries and battles various enemies on his way to the coveted prize and title.
The series produced by Toei Animation premiered on October 20, 1999, on Fuji Television, and since then, over 800 episodes have been aired on multiple networks around the world.
There were several crossover episodes with Toriko in 2011, and another with Dragon Ball Z in 2013.
In Jun 2004, 4Kids Entertainment purchased the rights for distributing One Piece in North America. A special "Pirate Rap" theme song was specially composed for the American audience, and the English version of the series premiered in September 2004 on Fox, and later on Cartoon network.
The airing stopped at episode 143, as well as the home video release, due to the fact that 4Kids realized that it wasn't appropriate for their target audience. Since then, the entertainment company implemented much more serious guidelines and checks to all anime series it went on to purchase.
Funimation proceeded to license and dub the One Piece series in 2007 in English. The series was aired with less censorship and fewer restrictions. The cable program released an uncut DVD box set in Japanese and English with 13 episodes in 2008. After that, another 14 sets were released.
The uncut series began airing on Toonami's late-night block and continued until One piece was finally removed in March 2017.
In 2013 the dubbed DVD boxed set was released in the US, Canada, Australia, South Africa, Latin America, the UK, and New Zealand by Manga Entertainment.
On February 12, 2013, it was announced that Manga Entertainment would start releasing the Funimation dub of One Piece in the United Kingdom in a DVD box set format.[81] Crunchyroll began simulcasting the series on November 2, 2013, for the United States, Canada, South Africa, Australia, New Zealand, and Latin America.[82]
By October 2017, after 430 million copies of the series were sold, One Piece became the top-selling anime series in history.
The estimated production cost of each of the episodes is about $88,750, and the series still has a strong following among anime fans around the world.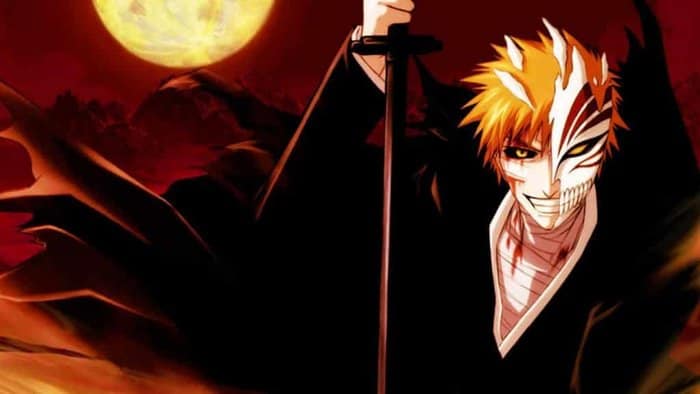 With a staggering 366 episodes, this is one of the lengthiest anime series on our list. It was aired from 2004 to 2012 and gathered a serious fan following during the years.
The story revolves around a high school student called Kurosaki Ichigo, who can see ghosts. He receives this special power after an accident in the hollow of a tree. During the incident, when he and his family gets attacked by the Hollow, a Soul Reaper named Rukia Kuchiki rushes to save Ichigo and his family and gets injured while protecting them.
Ichigo promises to take Rukia's powers in order to save his family, and as a result, the young boy begins training to be a Soul Reaper (Shinigami). The plot is quite similar to that of Sixth Sense, so if you enjoyed that movie, you will most probably like Bleach as well.
Ichigo then proceeds to hunt down all hollows which attack the people. He is joined by his classmate buddies Yasutora Sado, Orihime Inoue, and Uryuu Ishida who also have unique abilities.
The Bleach TV series is an adaptation of Tite Kubo's manga series of the same name. The director of the series is Noriyuki Abe.
This is a wonderful adventure anime series which will keep you wanting to watch more and more, even though many anime fans find that the series tends to get tedious after the first 60 or so episodes, but if you are a true fan, you will enjoy every single one of them from episode 1 to episode 366.
Code Geass: Hangyaku no Lelouch is an anime series set in 2010 following the conquest of the Holy Britannian Empire over Japan. The empire retorts to its powerful robot weapons called Knightmare Frames to take away everything from the Japanese people, including the name of the country which the occupiers rename to Area 11.
Lelouch Lamperouge, the protagonist, was once born a prince of the Britannian Empire but gave up his right to the throne after the brutal murder of his mother, and then vowed to destroy his father – the emperor.
After being caught in the crossfire between the two armies, he is saved by a mysterious girl called C.C., and he embarks on an adventurous journey as a masked vigilante called Zero to fight the Britannian Empire with all means possible.
This beautiful anime series was created by an all-female team of manga artists called "Clamp." Since the release of the 26 episodes of the series in 2006 and 2007, the popularity of Code Geass has been growing in Japan and in the rest of the world.
As a result of its success and all the awards it received, several novels and manga based on the series were published. Also, millions of the Blue-ray and DVD sets of the series have been sold throughout the world.
Thanks to the great animation, the exciting twists, and turns of the plot, as well as the incredible finale, this anime series is one of the best ones yet released.
Hunter x Hunter is another fascinating anime series consisting of 148 episodes, which aired from October 2011 to 2014 on Nippon Television in Japan. The Madhouse studio produced it, and Viz Media is the licensor of this series. Each episode is 23 minutes long and is packed with action, Shounen, adventures, superpower stories, and fantasy.
You will be hitched on this story about a youngster named Gon Freecss, who finds out that his father, who was presumed dead, is actually alive and is a legendary Hunter named Ging. Gon becomes determined to follow his footsteps and join the elite title known as "Hunter". The story follows Gon as he prepares to take the examination and on his adventures as he goes on a quest to find his long-lost father. Along the way, young Gon manages to find lost treasures, capture enemies, make friends, and discover unchartered territories.
Directed by Hiroshi Kojina, with character designs by Takahiro Yoshimatsu and scrips by Jun Maekawa, the Hunter x Hunter anime series is a complete reboot of the original anime series from 1999.
The series became instantly popular in the US, Canada, Australia, the UK, and other countries via the simulcasts with subtitles that were provided up to an hour after each original episode was aired on the Crunchyroll website. Today, Viz Media is licensed to offer the anime on Blu-ray and DVD with an English dub in the US and Canada.
The series aired on North American TV in April 2016 on Adult Swim's Toonami.
The Hunter X Hunter series is definitely worth watching, as you will enjoy the amazing adventures of Gon on his way to becoming a true Hunter, and his friends – Leorio, Killua, and Kurapika who meet all kinds of characters, monsters and strange creatures on their way.
Don't worry that there are so many episodes in this series, as you will find yourself completely engulfed in the story of these characters that all have a myriad of rather strange abilities, amazing physical powers, and an endless thirst for adventure.
In fact, after the 148th episode, you will very likely be craving for more!
The Tokyo Ghoul anime series has stirred quite a bit of controversy among anime and manga fans around the world. Many of them agree that the original manga on which the series is based on is much better than the TV adaptation. This is mainly because the entire dark manga series written by Sui Ishida and loved by millions have been made into just 12 episodes. This means that there is no in-depth exploration of the characters which anime fans expect.
Even so, Tokyo Ghoul is a superb dark anime series which is quite gory, especially if you choose to watch the uncensored version.
It is about a serious college student Ken Kaneki who befriends another avid reader called Rize Kamishiro and as a result, gets pulled into the dark depths of the inhuman world of the ghouls. The ghouls are scary creatures that eat human flesh. During an attack on him by the ghouls, Kaneki is almost killed. He manages to survive, but he turns into half a human and half a ghoul. This causes him to change and adapt to this new lifestyle so that he is integrated into both societies.
The series is set in Tokyo which has become a city full of evil bloodthirsty ghouls who can transform themselves to look normal and so to blend in with the humans thus finding more victims.
The 12 episodes of the anime series were aired in 2014. They were followed up with a feature film and a sequel named Tokyo Ghoul √A, and later continued with the spin-offs Tokyo Ghoul: "Jack" and Tokyo Ghoul: "Pinto."
There is a video game for Android smartphones called Tokyo Ghoul and a video game for PlayStation Vita inspired by the popular manga and anime series.
If you like dark and gory anime, you will love Tokyo Ghoul. If you don't fancy bloody and gory scenes, you can safely watch the censored version!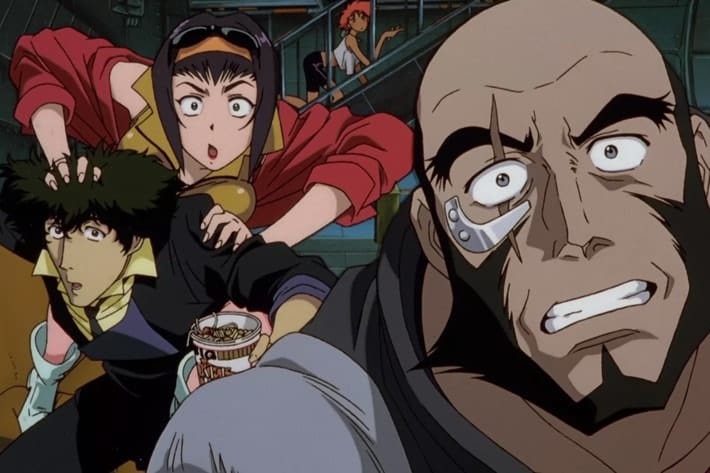 Cowboy Bebop has been called a masterpiece by many and is widely considered the anime series which opened the door to a new wave of western anime fans. It has numerous anime rewards and absolutely deserves them.
The series is set in 2072 when humans have colonized a number of different planets and moons in the solar system and have left the Earth uninhabitable. The authority in charge of keeping the peace in the galaxy is called the Inter Solar System Police. The policemen are aided by desperado bounty hunters referred to as "Cowboys". The team in the Bebop spaceship is part of these Cowboys.
In a way, this incredibly entertaining anime series is a western set in space. It combines some great comedy, as well as darkness, action, romance, science, spying, tragedy, and philosophy in one.
The partnership between the carefree and quite mellow Cowboy Spike Spiegel and the pragmatic and rather boisterous Jet Black, and the highly intelligent genetically engineered Welsh corgi Win plus Faye Valentine and Edward Wong is absolutely enthralling. The team goes from one adventure to another, and along with that the past of all the characters becomes revealed to the viewers.
The 26 episodes were shown in 1998 and 1999 and premiered in 2001 on Adult Swim in the US attracting a multitude of new fans thanks to the strong western note in the series.
Cowboy Bebop is probably the anime series that is responsible for so many people outside of Japan to become interested and attracted to anime, which is why it is an absolute must-see for newbies in Japanese animation.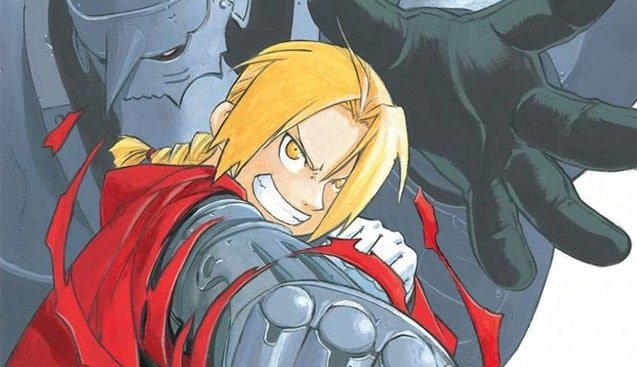 The touching story of Fullmetal Alchemist is the main reason for the popularity of this anime series both in Japan and in the US. This is the tear-jerking story of a brilliant young alchemist Edward Elric who has lost his mother and while trying to resurrect her with the help of his brother Alphonse loses him and two limbs as well.
Thanks to his alchemy skills, Edward manages to transform the soul of his dead brother into a strong suit of armor.
He later goes on a quest to find the Philosopher's Stone which is supposed to amplify the abilities of alchemists. Edward takes his brother in the form of armor on this journey in order to obtain the mythical stone and to try to transform both of them back to their normal bodies.
This journey turns quite dark for the brothers as they meet obstacles and adversaries as they have never imagined.
This dramatic and beautiful anime series directed by Seiji Mizushima consists of 51 episodes and ran from October 2003 to October 2004. In 2004, Fullmetal Alchemist won a TV Feature award at the Animation Kobe Awards and was one of the recommended titles by the jury of the 2004 Japan Media Arts
The original series was followed by a sequel film "Conqueror of Shamballa" from 2005. In 2009, a second anime series called Fullmetal Alchemist: Brotherhood was broadcast. The second series is a much closer adaptation of the original manga chapters.
This is one of the defining manga series which you have to watch if you want to see one of the most loved TV series in the genre.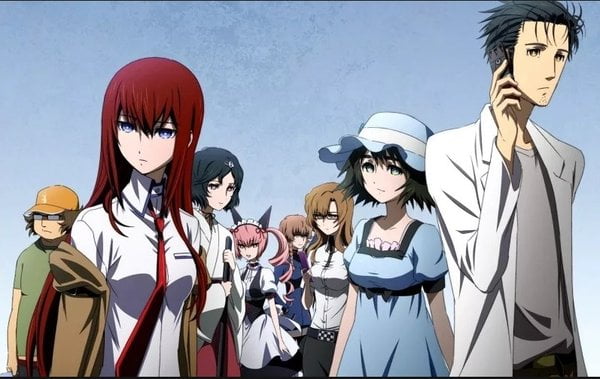 Steins;Gate is part of the Science Adventure franchise which also includes Robotics;notes and Chaos;head. The anime series created by White Fox anime studio aired in 2011 and consists of 24 episodes
It is a thriller and sci-fi anime about Rintaro Okabe, a mad scientist who along with his friends Mauyuri Shiina and Hashida Itaru (Daru) invent a time travel Phone Microwave by accident, which allows them to send text messages and email messages to the past which eventually change the course of history and the present.
It is based on the hugely successful Visual novel by 5pb and Nitroplus, the Steins;Gate anime is still considered one of the best sci-fi series in the genre by anime fans around the world.
The licensor of the series is Funimation who released the Blur-ray and DVD with the full episodes in North America. The series is directed by Hiroshi Hamasaki and Takuya Sato, written by Jukki Hanada, and the characters are designed by Jyuuta Sakai.
If you enjoy time travel stories and adventures, this anime will absolutely thrill you with its perfect storyline which doesn't have the absurd and sometimes illogical plot holes which many other animated or non-animated time travel movies have.
In fact, Steins;Gate may very likely become the best anime series you have watched in a very long time!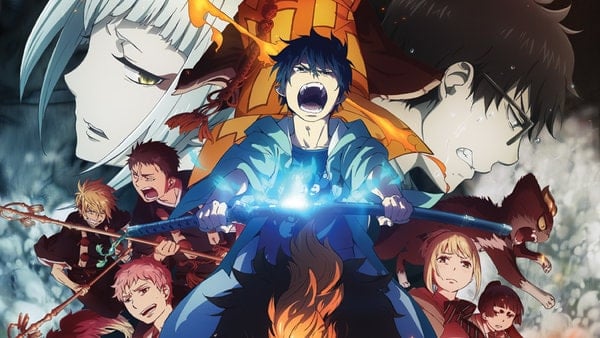 Blue Exorcist is an action-packed anime series based on Kazue Kato's original manga series from 2009. The story is about a teenager named Rin Okimura who finds out that he and his twin brother Yukio are both Satan's children born by a human woman. As a result, Rin realizes that he has inherited Satan's powers. The story follows Rin's quest to become an exorcist with the guidance of his brother in order to defeat and destroy their father who kills the boys' foster father – a priest and exorcist, and who wants to conquer their world of Assiah.
The Blue Exorcist consists of 25 episodes of 24 minutes each, which originally aired in 2011 in Japan. The licensor for the DVD and Blue-ray of the series offered in North America is Aniplex of America.
The series is a fun and engulfing story filled with action, fantasy, demons, and Shounen, and all of that presented with beautiful artwork.
In 2017, a second season of the series named Blue Exorcist: Kyoto Saga began airing as well.
The truth is that the story is so captivating, that even if you don't tend to be an anime binge-watcher, you will find it very hard to resist watching all 25 episodes at one sitting!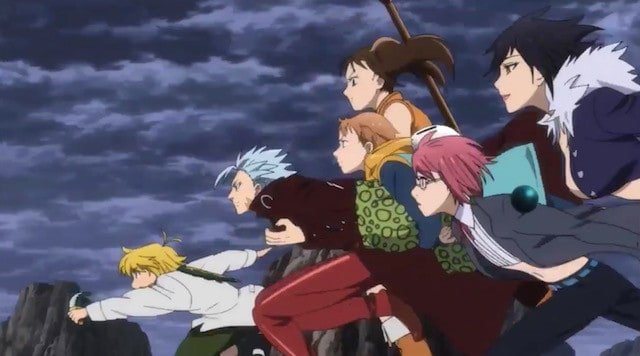 If you love adventure and fantasy, you will be thrilled by The Seven Deadly Sins (Nanatsu no Taizai) anime series. The story is set in the region of Britannia which is very similar to a European Middle Age setting.
It is about seven knights who represent the seven deadly sins. The group of knights originally plotted an overthrow of the Liones Kingdom but failed because of the Holy Knights and disbanded.
But after 10 years, the Holy Knights manages to capture the king and proceed to become tyrannical rulers. As a result, Princess Elizabeth starts her journey to Seven Deadly Sins in an attempt to win back the lost kingdom and to find the long-lost justice in the world.
The hugely popular best-selling manga series was adapted into an anime series that aired from 2014 to 2015 and consists of 24 episodes and 2 OVAs. It is directed by Tensai Okamura, written by Shotaro Suga from A-1 Pictures studio.
There was a second season made which aired from January to June 2018 and was followed by a successful anime film that was released in August 2018. There is also a light novel and games based on The Seven Deadly Sins.
Today, Netflix holds the exclusive streaming rights for the English language version, and Funimation holds the home video rights.
Overall, The Seven Deadly Sins is a strong recommendation for anybody who wants to watch an exciting and considerably light Shonen anime show with all the action, fun, and great music.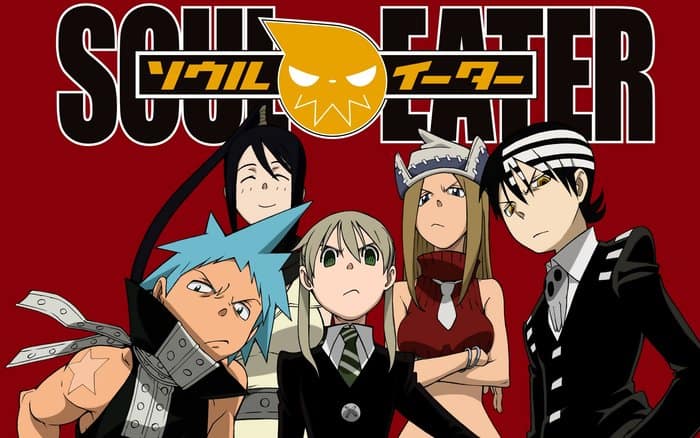 Soul Eater is a highly entertaining anime series about a group of students attending a school for weapons and masters – Shibusen in Death City a fictional city in Nevada. The main characters are accompanied by partners who can transform into weapons. The students are on a quest to collect souls in order to protect the city.
The Soul eaters can transform into weapons only after they have consumed 99 evil souls and 1 of a witch.
Maka is partnered by Soul who turns into a scythe, Death the Kid has a couple of partners called Patty and Liz who turn into pistols, and Black Star is accompanied by his partner Tsubaki who can transform himself in a wide variety of weapons.
Together the students proceed to fight various witches and demons who want to destroy Shibusen and to overtake the world.
There is a lot of fun, adventure, beautiful fight scenes, and a lot of style in this series which makes it an absolute treat to watch.
The TV series ran from April 2008 to March 2009
Many anime fans prefer the first 26 episodes of the total of 51 episodes of the series because they are more fun-filled and entertaining than the second half which becomes slightly more serious. Overall, this is a beautifully made, fun and stylish anime series, which you will definitely have fun watching.
Although it starts rather slowly, and some of you may feel bored during the first few episodes of Akame ga Kill, please be patient because you are on to a grand adventure with this incredible anime series.
The plot revolves around a young boy called Tatsumi who comes from the countryside, and who sets off to go to the Capital along with two friends – Sayo and Leyasu. The journey involves numerous adventures with the Night Raid group of dangerous assassins who recruit the young boy to help them fight the corruption of the Empire. All members of the Night Raid are specialized in different types of fighting and killing. They are all armed with Teigu, which are Imperial arms made from extremely rare materials. They also are accompanied by Danger Beasts.
Overall, this series is known for its graphic dark and gory content and has a strong following among fans of Japanese animation TV series.
The series was directed by Tomoki Kobayashi, written by Makoto Uezu and produced by Square Enix. It includes 24 episodes which aired originally from July to December 2014.
The series is an adaptation of the original manga by Takahiro and first premiered on Nippon BS Broadcasting TV and Tokyo MX Mainichi Broadcasting System.
They aired in the US on the Toonami block of Adult Swim from August 2015 to February 2016.
If you don't mind watching some excessive killing and gore, you should definitely opt for the Akame ga Kill! Series.
Every anime fan will agree that No Game No Life is one of the most brilliant anime series of all time. The series is about two siblings called Sora and Shiro who are transported into another world which is run by games. The two protagonists need to adapt to this new world in order to survive these not so innocent or cool games.
The show is really addicting especially for gamers due to the unique concept and plot involving a fantasy world where everything is done in accordance with specific rules which must be followed at all times.
The No Game No Life: Zero is the movie that adapted the 6th volume of the series. It aired in 2017.
We strongly recommend the series for every anime fan. Once you set your eyes on the super-intelligent brother and sister who prefer to play video games rather than live in the boring real world, you will surely be hooked and will want to watch more and more of their amazing adventures and accomplishments in the weird fantasy world they are sent to.
The animation is brightly colored and beautiful, but there is some nudity involved which some younger viewers may find inappropriate.
The 12 episodes of the series aired from April to June 2014.
Most of us have grown up with Pokemon, and have spent hours watching the adventures of Pikachu and Ash Ketchum, or played one of the numerous Pokemon games, right?
Well, years after its release, the original Pokemon anime series is still in the top 3 of the best anime series of all time.
The reason is not that it is the best or greatest anime of all, but rather due to the immense influence and fame, it has acquired on a global level.
Pokemon is an abbreviation for Pocket Monsters which was the Japanese title. The series has been broadcasted in more than 98 countries around the world as was made based on the famous Nintendo Pokemon game.
The Pokemons are fun creatures each with its own talents, abilities, and appearance. Satoshi has always dreamt of training his own Pokemon and become a master, but when he finally gets an opportunity to get a Pokemon, only Pikachu who is a rebellious Pokemon is left. The rest, of course, is history – as the adventures of the two develop and unwrap.
This series is suitable and safe for very young kids, so if you want to feel the nostalgia of being a child again and at the same time introduce your own children to the beauty and art of anime, the original Pokemon series is the perfect way to begin.
You have a huge choice among all the 276 episodes which have aired from 1997 to 2002 to watch the epic adventures of Pokemon which became the first manga series to reach such a wide western audience.
The animated Pokemon series is split in six chronological series in Japan, and all these six series include 20 different seasons, which means that you have quite a bit of catching up to do if you want to watch them all.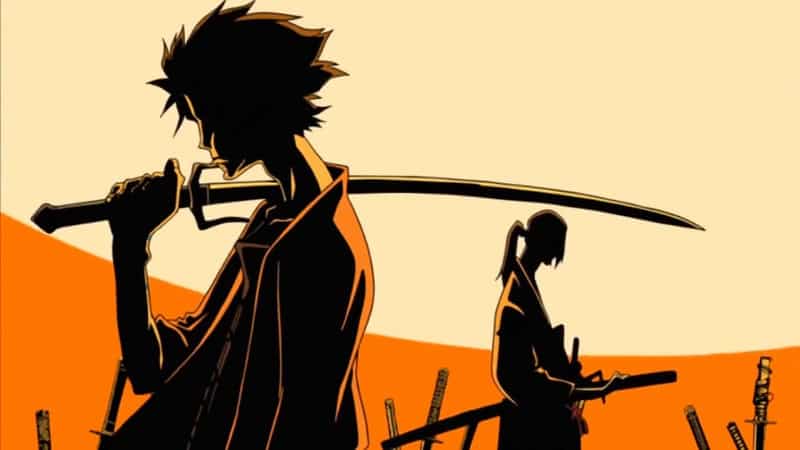 This is a magnificent anime series, which involves three main characters – a clumsy teahouse waitress called Fuu Kasumi, and two samurais Mugen and Jin.
After accidentally spilling a drink on a customer, Fuu is harassed by a group of samurai, which causes her to seek the help of Mugen, a samurai who defeats the attackers with some wild fighting techniques. He proceeds to attack another Ronin named Jin, who though proves to be a tough opponent as he is a better swordfighter than Mugen. During the battle, they accidentally kill the son of a local magistrate for which they are captured and sentenced to be executed.
Fuu proceeds to rescue them and hires them as her personal bodyguards. They join her in the quest of finding a special samurai who smells like sunflowers. The series follows the three characters on their quest, and it is quite a ride, given the fact that the two bodyguards are constantly trying to kill one another.
The 26 episodes aired from May 2004 to March 2005. The series inspired the popular Samurai Champloo video game for PlayStation 2.
The Samurai Champloo TV series is a great treat for all anime enthusiasts. The story is set in the Edo period of Japan and is full of comedy, action, sword fighting all infused with an amazingly good hip-hop soundtrack.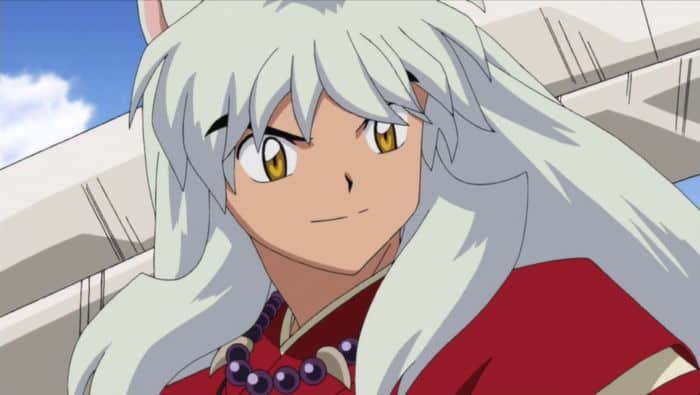 This anime series is also known as Inuyasha: A feudal fairy tale and aired on Japanese TV from the fall of 2000 up to September 2004. It is a story of a teenage girl Kagome Higurashi who gets dragged in a cursed well nearby her family Shinto shrine by a demon on her 15th birthday. This is when her normal life ends and she ends up living back in time during the Sengoku period in Japan 500 years ago.
In her, she carries a magical jewel that grants wishes known as the Shikon jewel. It is this special reborn jewel which the demon is really after.
During a battle with the demon, the special jewel accidentally breaks, and Kagome seeks the help of the dog-demon and human hybrid named Inuyasha to retrieve all of the shards from the precious stone and thus prevent the demon from laying its hands on one.
Along with Inuyasha, the 15-year old girl is joined by the fox demon Shippo, a lethal demon slayer named Sango and the smart monk called Miroku.
Together, they take on to find all of the shards from the Shikon jewel which have been spread around Japan. During their adventure, the new allies need to work out their differences and learn to work and act together in order to get to each and every lost Shikon jewel shard before it ends up in the wrong hands.
The series ran for 4 years and consists of 167 adventure and action-filled episodes.
Inuyasha is based on a manga series illustrated and written by Rumiko Takahashi which ran from 1996 up to 2008 and is collected in 56 volumes by Shogakukan.
The producers of the popular anime are Yomiuri Telecasting, and the licensors are Viz Media.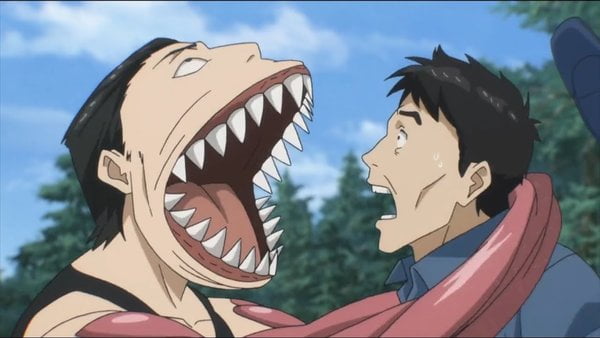 Parasyte (Kiseijû: Sei no kakuritsu) is an anime series by Madhouse, which will keep you glued to the screen, even though it has only one season. The 24 episodes cover the sci-fi adventure of a boy named Shinichi Izumi who gets infected by a parasite that has attacked human beings and destroyed them by butchering and consuming them. But the 17-year-old boy gets saved by his earphones, and the parasite enters his body via his right hand. Over time, Shinichi and the monster who is named Migi learn how to co-exist together in order to both survive. So, now he is half a boy half a monster on a quest for survival.
The story of this uneasy coexistence will keep you on the edge of your seat during all 24 episodes.
It originally aired in 2014-2015 in Japan and a year later in Northern America via the Adult Swim's Toonami block. It is the perfect mixture of horror, psychological thriller, drama, action, and Seinen.
It may have taken more than 20 years for this bestselling manga series to be turned into an anime series, but it is definitely worth the wait.
The change in the boy's character as a result of Migi's influence, as well as the internal battle which Shinichi faces to define himself either a human or a monster is so interesting to watch, that you will find yourself being completely immersed in the storyline from the very beginning until the very end.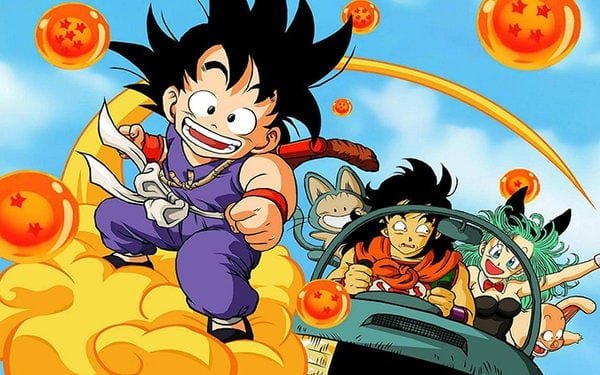 Dragon Ball is the first of the series which led to the amazing growth of the Dragon Ball franchise over the years. It is the original, the first, and the best of the Dragon Ball anime series.
Millions of fans around the world are crazy about the young boy Gokuu who is extraordinarily strong and lives alone in the woods. There he meets a girl called Bulma who takes him with her in search of the seven dragon balls which when combined can grant any wish in the world. He already owns one of the dragon balls so Bulma asks him to tag along with her so that she can use the dragon ball once she finds the rest.
On the road, they meet two other friends who join them on their quest – Muten-Roshi and Kuririn with whom Gokuu trains for the World Martial Arts tournament.
The series includes some laugh out loud moments, as well as amazing fighting scenes which are a true pleasure to watch. Although it is quite humorous at the beginning, toward the end of the series, the tone gets slightly more serious.
Gokuu is one of the first shounen hero archetypes but he is not only a fighter, but he is also smart, funny, and wise at times too.
The series has 153 episodes which were broadcasted from 1986 to 1989, so it is pretty old, but this anime classic is definitely not dated and will continue to be loved by young and old anime fans for years to come.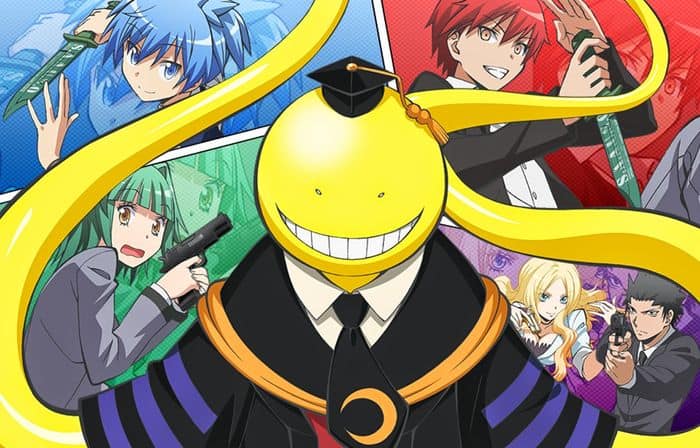 Assassination Classroom is a 22 episode series which was first aired back in 2015, but still remains one of the most engaging school-based action anime series of all times.
The story revolves around class 3-E of students of Kunugigaoka Middle School who are all misfits and get assigned a new homeroom teacher who they soon name Koro-Sensei (unkillable teacher). The problem with the new teacher is that he is a strange creature with tentacles who turns out to be on the most wanted list by the government because he has destroyed nearly two-thirds of the moon leaving it permanently crescent-shaped. The strange creature teaches the students, regular classes, along with a class about the ways of assassination.
The students get together and proceed to try to assassinate their teacher. This turns out to be a seemingly impossible task because Koro Sensei is able to fly at Mach 20 speed, and also turns out to be the best teacher which the group of middles school misfits has ever had.
The Assassination Classroom has numerous funny moments, combined with a lot of action and is definitely among the top preferred shounen science fiction manga series too with more than 20 million copies sold in Japan. It is illustrated and written by Yusei Matsui, and was first screened in 2013 as single original video animation, but then was adapted as an anime TV series by Lerche, and all 22 episodes aired in 2015 on Fuji TV. The series was licensed by Funimation for North American release.
Later on, in 2015 a live-action film was made based on the manga, and it was followed by a sequel named Assassination Classroom: Graduation in 2016.
Noragami is an addictive adventure comedy anime series that ran in 2014. There are 12 episodes in season one, followed by a second season named Noragami Aragoto consisting of another 13 episodes which aired in the fall of 2015 in Japan.
The story is about minor god Yato who by accident runs into middle school student Hiyoki Iki, and their meeting changes both of their fates.
Hiyoki Ili is an ordinary schoolgirl who one day gets involved in a bus accident as she jumps in to protect a complete stranger. The stranger turns out to be Yato, who's only goal and dream is to have millions of worshipers and is ready to do any kind of odd job for 5 yen.
After the accident, the soul of the young girl begins to flip out of her body and goes into a parallel world called the Near Shore where there are all kinds of people and creatures as well as to the Far Shore where the human souls and demons linger.
As her soul floats around the parallel worlds, the girl meets Yato, who offers to fix the problem with her physical body. The two of them accompanied by Yato's Regalia weapon Yukine go on numerous adventures together, and the result is an entertaining, sometimes thrilling adventure, as well as an intriguing story of how their relationship evolves through time as they question and struggle with their identities, their past as well as their friendship.
The manga was written by Adachitoka and was first released in 2011. Since then, the series has over 20 tankobon volumes and continues to be one of the top preferred Shonen manga series in Japan.
Yu Yu Hakusho is a TV series including 112 episodes which ran from October 1992 to January 1995. Produced by Yomiko Advertising, Fuji TV and licensed by Funimation, this anime is also known as Yu Yu Hakusho: Ghost Files.
It tells the story of a 14-year-old delinquent boy named Yuusuke Urameshi who one day decides to do the right thing, and do something completely altruistic, and jumps in front of a moving car to save the life of a young boy.
Because of this turn of events in his attitude and the ultimate sacrifice he was ready to make, the spirit realm authorities headed by Koenma, who is the heir to the throne decide to give Yuusuke a chance to regain his real physical life back by completing a number of tasks given to him.
With the help of Botna the death god, the boy is sent back as a Spirit Underworld Detective to fight the evil presences.
At his side are an ex-rival Kazuma Kuwabara and Hiei and Kurama – two demons with criminal pasts.
All of them together train in martial arts and go-ahead to fight with the enemies, who are threatening the entire human existence.
The anime is based on a manga series illustrated and written by Yoshihiro Togashi which consists of 175 chapters in 19 tankobon volumes. The manga series sold more than 50 million copies in Japan.
The anime series was directed by Noriyuki Abe, co-produced by Fuji TV, Yomiko Advertising, and Studio Pierrot.
It was licensed by Funimation in 2001 for North America and aired on Cartoon Network's Adult Swim and Toonami.
Yu Yu Hakusho is still very popular among anime fans who appreciate the breath-catching action, martial arts, and the comedic and supernatural sides of the series.